Best Place To Visit In Shirdi.
With a whirlwind of activity and countless famous landmarks around every corner, Shirdi is probably one of the most famous pilgrimage sites in the world. It is a popular destination for those seeking peace and tranquility while others come for sightseeing.
If you are planning a trip to the home of the revered spiritual saint Sai Baba, here is a list of places to visit in Shirdi:
Not including the Sai Baba temple on this list would be delirious.
Shirdi is the home to one of India's most venerated saints, Shree Sai Baba. Every year devotees from all religions congregate in Shirdi to pay their respects to the revered saint. The temple comprises of white Italian marble statue of Saint Sai Baba. A queue of ardent devotees begins to form around the temple at the crack of dawn hoping to catch a glimpse of Sai Baba's statue and receive his blessings.
Despite his miraculous powers and mystical abilities Sai Baba was the most human of all divinities. He has touched and enriched many lives in the most profound ways.
Dwarkamai is adorned with a portrait of Baba and a stone tablet that he often sat on. The perpetual fire that he lit when he was alive is another noteworthy feature of this mosque. According to the legend the ash from this fire can cure numerous ailments. In an adjacent section of Dwarkamai, there is a square stool made of stone which Baba used when taking a bath. A painting depicting Sai Baba is the main attraction of this place. Additionally there is a grinding stone and a wooden vessel called a Kolamba in which Baba kept the alms he collected from the village.
Sai Teerth Theme Park in Shirdi
India's first immersive theme park is dedicated to the most beloved saint of all time. A modern wonder, Sai Teerth by Malpani Group combines devotion with technology and enjoyment.
Shirdi's Sai Baba Chavadi, formerly a resting place for Sai Baba now displays a painting that was painted by an artist named Amabaram from Navsari, Gujarat after the saint visited him in a dream.
Amongst the places to visit in Shirdi this one has special significance. The reason is that Baba spent a lot of time here under a neem tree when he first came to Shirdi and according to the popular belief the tomb of Saibaba's guru rests near this tree. The most fascinating aspect of the holy tree is that its leaves are not bitter but sweet and it continues to bless pilgrims to this day.
In the mornings and evenings Sai Baba spent a lot of his time here watering the plants in this captivating garden situated on the Shirdi Manmade State highway.
House of Laxmi Bai Shinde
It is one of the most important places to visit in Shirdi for admirers of the saint. The rundown house once belonged to the woman who cooked Saibaba's meals every day and it bears the collection of nine silver coins that were given to her by Baba.
One of Sai Baba's most ardent devotees, Abdul Baba's cottage is a must-see attraction for anyone visiting Shirdi because it contains some interesting memoirs describing Baba's time spent there.
The Sai Baba Sansthan (trust) houses this museum and it exhibits vintage pictures of Baba with his followers. Among other exhibits in the museum are his leather padukas, long robes, and smoking pipes, as well as bathing stones and cooking utensils.
Hemant Wani, the gallery's artist, created this exhibition. This gallery is located adjacent to the Samadhi temple. Some artifacts in this museum can be bought as mementos.
The above mentioned are a few note-worthy places to visit in Shirdi among several others.
Listed below are a few places to visit near Shirdi.
In the Sai Heritage Village visitors can uncover details about the lifestyle of Shirdi's villagers and major events in Sai Baba's life. Sculptures erected here beautifully depict Baba's life, events and important landmarks.
It provides a variety of professional services that encourage the rejuvenation of the mind, body and spirit. Spa therapies assist in balancing the mind and body giving a sense of spirituality and balance. The treatments incorporate natural oils, herbs and massage strokes performed by specialists.
Located on the Shirdi-Manmad state highway in the Ahmednagar district of Maharashtra, Vishwatmak Jangli Maharaj Ashram is also known as Kokamthan Ashram.
Besides being a co-educational residential school for children, it is also run and managed by Spiritual Guru Om Gurudev. In the presence of Sadguru Janglidas Maharaj, Anygraha, a religious program is conducted every Poornima and it lasts throughout the night.
Among all the places to visit near Shirdi, this one has the greatest historical significance. Sai Baba stopped here on his way into Shirdi for the wedding of Chand Bhai Patil and it was here that he acquired the name "Sai Baba."
Sai Shrinath art gallery and wax museum
Here you will get a rare opportunity to see the articles and personal belongings of Saibaba. Many black and white photos of previous times make your heart fill with a sense of devotion. According to reviews it is one of the best places to visit near Shirdi.
A trip to Shirdi is incomplete without a visit to the water park. It is an ideal location for a family outing and gives you a complete package of unlimited fun, thrills and adventure. It is a great place to visit near Shirdi if you are traveling with kids.
Sapphero Resorts
If you are visiting Shirdi, the Sapphero Resorts will be a commendable choice as our round-the-clock services and ambiance will be an unforgettable experience. If you are looking for a getaway weekend, a corporate event, or a wedding our prices are the most competitive in Shirdi. 
Reach out to us
Give us a call: +91 9699709201, 9699709208
Landline: 02423-299266
Address: 78/3, Laxmiwadi, Nighoj, beside Sainagar Railway Station, Shirdi, Tal Rahta Road, Dist. Ahmadnagar.
E-mail: sales@sappherohotels.com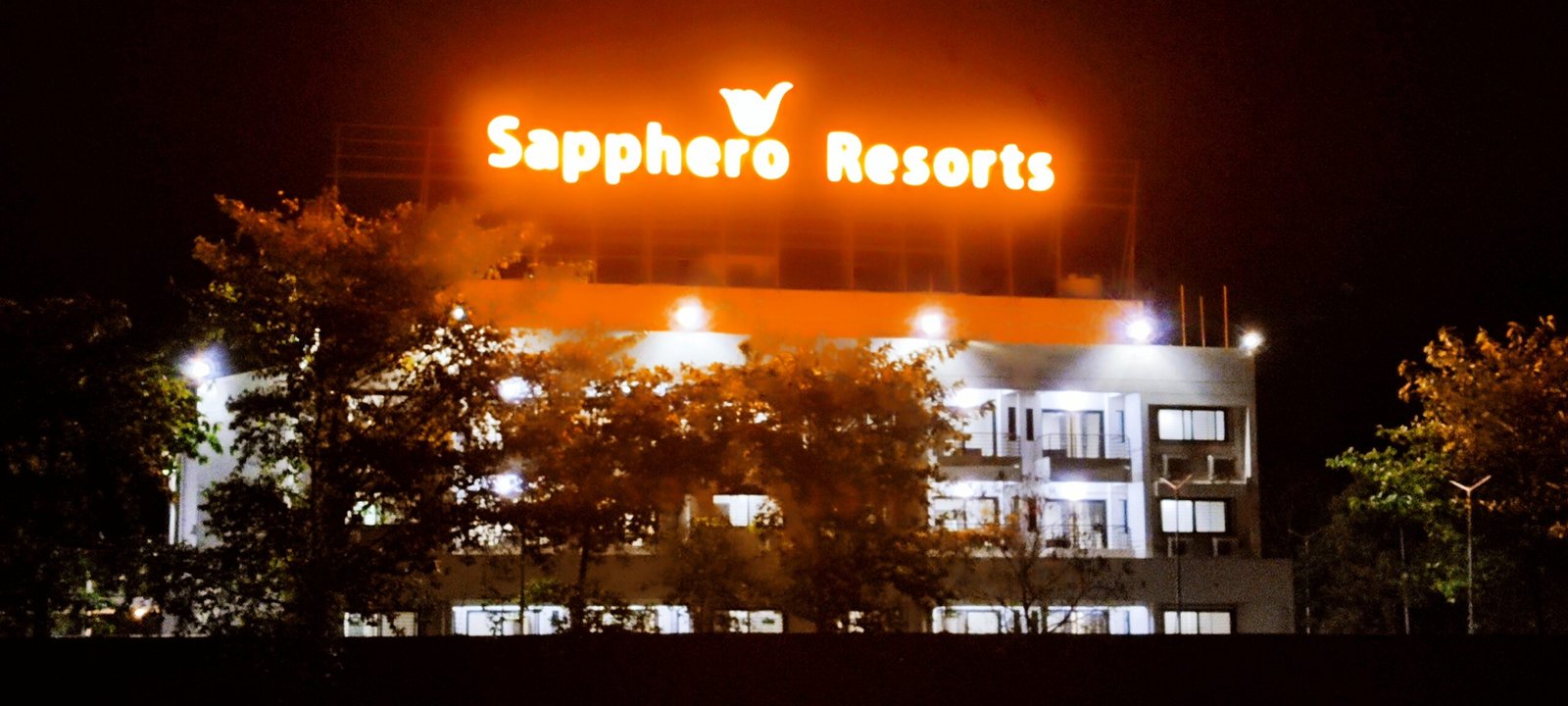 All Photo Taken From Google