Unknown Facts About Shirdi Sai Baba
Shirdi is famous because of Saint Sai Baba. He taught us about spirituality and peace. The aura in Shirdi is so spiritual that you feel his presence as soon as you reach Shirdi. Sai Baba is worshipped in all parts of the world. There are more than 2000 temples of the holy saint around the world. Sai Baba Temple is situated in Maharashtra and is just 300 kilometers from Mumbai. The city is well connected by rail, road, and air.
Here are some intriguing facts about Sai Baba.
According to Sai Baba, every religion leads to the same goal. It's no surprise that Sai himself attended both the mosque and the temple. Many people worship Sai regardless of their religion
Nobody knows who he is or where he comes from. Shirdi was the place where Sai arrived at the age of sixteen, even got his name here. It has been suggested that he is from a Brahmin family, and it has also been suggested that he has links to a Muslim family.
Saibaba Temple in Shirdi is the second richest temple in India, followed by Tirupati Balaji Temple in Andhra Pradesh. On average, 60000 people visit Shirdi daily but the figure is as high as 100,000 on weekends. The figure goes up to 500,000 on the days of Ram Navami, Guru Poornima and Dussehra.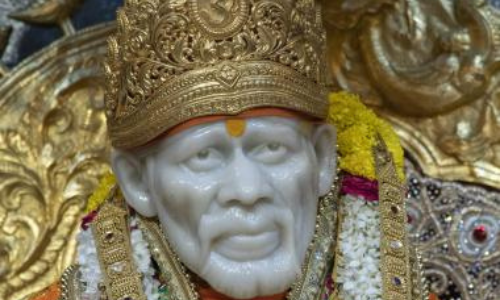 The best time to visit Shirdi is during the winter months of December to February. One should avoid visiting between March and May as it is very hot during the summer. Baba's devotees consider Thursday the day to devote Baba, hence Thursdays and weekends are usually very crowded.
Shirdi is home to 36,000 people, including thousands of migrant workers who work there. The literacy rate is 70 per cent, which is much higher than the national average of 59.5 per cent.
Sai Baba has cured a lot of people from serious illnesses. He is known for performing miracles such as lighting a lamp with water, saving Shirdi from a plague, reading the minds of his devotees, his love for animals, etc.
Sai Baba's temple was originally constructed as Krishna Temple with lot of rooms for visitors to stay in but was converted into Sai Baba's temple after Sai Baba's Samadhi.
The movie titled Shirdi Ke Sai Baba was released in 1977. It was a huge hit all over India. The movie featured the life and miracles of Saibaba. Actor Sudhir Dalvi played the role of Saibaba in the movie. He became so popular that Saibaba's devotees fell at his feet for blessings. Still, this movie is very popular among its devotees and is dubbed in various languages. In the year 2010, another movie on the life of Saibaba, named "Sabka Malik Ek", starring Jackie Shroff in the title role, was made, but the movie did not do well at the box office. Jackie Shroff stopped drinking and smoking while shooting for the movie.
When Saibaba appeared in Shirdi, he was mostly found under a neem tree. Sai Baba told everyone that this is my Gurusthan. The place is known as Gurusthan. The leaves of the neem tree are sweet and don't taste bitter. You can taste it whenever you visit Shirdi. The leaves are consumed by devotees for a healthy life.
The town has an alcohol-free policy. The sale, serving, and consumption of alcohol are punishable offences. There are different drinking laws in this city.
The Indian Railways had to start many trains from all parts of the country for the millions of devotees of Saibaba. Sainagar Shirdi railway station has trains from all parts of the country. There are direct trains from Puri, Vijaywada, Hyderabad, Chennai, Delhi etc.
If you are visiting Shirdi, the Sapphero resort will be a commendable choice as our round-the-clock services and ambience will be an unforgettable experience. If you are looking for a getaway weekend, a corporate event, or a wedding, our prices are the most competitive in Shirdi.
Give us a call: +91 9699709201, 9699709208
Landline: 02423-299266
Address: 78/3, Laxmiwadi, Nighoj, beside Sainagar Railway Station, Shirdi, Tal Rahta Road, Dist. Ahmadnagar.
E-mail: sales@sappherohotels.com
Location:-